We were pleasantly surprised when our dad was able to recite vividly in Hockchew to his grandchildren in Singapore a Christian poem which he learnt from a British missionary when he was attending Sunday school in China more than 70 years ago.
We were only told of this after his disappearance and since then we have publicised this poem which can be sung to the oft-sung tune "Jesus Loves Me".
The words are as follows:

"Ye su ai wo hua shi zhen. Yin wei guang ming zhao shen jing. Ta you ben shi zuo pao hu. Shi shi quan ren de zhu fu. Zhu ye su ai wo (3x). You shen shu gao su wo."

In English, the words mean:
"Jesus loves me this is true. For His light shines forth His Word. He has power to protect. The whole being He will bless. Yes Jesus loves me (3x). The bible tells me so."
We would like to encourage churches over the country to sing this poem not just because of our dad, but because the words are so meaningful.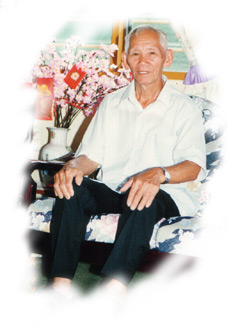 WE LOVE YOU, DAD

Dad …
Your name, we long to call,
Your hands, we yearn to hold,
Your face, we want to behold …

You were here,
And then one day gone,
No news, no signs,
Dead or alive …

Seven years gone by …
With each passing day,
Our hopes dwindle …
Our anguish permeates …

We don't know where,
We can't see why,
But we realise God has His plans,
So we entrust you to His tender care.

Dad …
Times spent with you were far too short,
We have much to tell you,
Much more to repay …

You taught us to live,
Through your sweat and toil,
Our lives are deeply enriched,
Because of your sacrifice and love …

Time elapsed,
But memories remain,
Your place in our hearts,
None can replace.

Dad …
Where ever you may be,
Your love lives deep in our hearts,
And there you will always stay.

We love you Dad, and miss you still …