OUR TRIBUTE TO A DAD WHO GAVE HIS ALL AND BEST TO HIS FAMILY THROUGH TOIL AND SWEAT ...
Tan Sue Yong or Zheng Shu Yang, our beloved dad, was born on 24 September 1917 to a huge and wealthy Zheng family in the province of Fuzhou, China. Our great grandfather, his grandfather, Zheng Peng Hui was a renowned and wealthy physician in the province sharing the same lineage of the famous Chinese poet in the Qing Dynasty, Zheng Ban Qiao. They lived in a huge mansion and were served by many servants. Our dad was the 19th generation of the Zheng family. (The surname "Tan" is stated in our identity cards only for official purposes because zheng is pronounced as "dang" in the Foochow dialect.)
Our grandfather, Zheng Long Chang was the fourth child of our great grandfather through his 4th wife. His first child, our granduncle from his 1st wife was also a physician and a high government official. When great grandfather died, almost the entire family fortunes, lands and assets were taken away by the first granduncle, being the eldest and the most educated one among his siblings.
The 4th wife of great grandfather bore him three sons. Our grandfather was his third and youngest son.
Our grandfather did not receive much from the great grandfather's estate. Being the eldest child, dad then decided, like so many of his contemporaries those days, to sail to the South East Asia to look for greener pastures.
In 1937, he sailed to Malaya, now West Malaysia, together with the family of the 3rd granduncle (3rd son of great grandfather through his 4th wife) at the young age of 20. He returned to China 4 years later (1941) and married mum, Swee Mei who was then only 17 years old. During this time life for the ordinary Chinese was hard. The Nationalist Army under Chiang Kai Shek and the Red Army under Mao Tze-tung were fighting against the Japanese occupiers. Early in the mornings, he would rise to make taufu (bean curds) and mum would then sell them in the market while dad went to the fields labouring as a farmer.
Even though Dad is 86 years old (2003), his eldest child is only 54 years old. Living under poor and mal-nourished circumstances, mum's pregnancies were often fraught with problems. She suffered many miscarriages and 3 sons died a few days after their births.
Mum had a miscarriage during her first pregnancy when she was 18. When her first child, a girl, was finally born, mum was a weak and frail 19-year-old girl herself. It was also in this year (1943) that our paternal grandmum in her 40s died. Believing that the newly born girl had brought bad luck to the family, maternal grandmum then decided to let the poor baby girl die in the cold outside.
In March 1947, dad decided to come over again to Malaya. This time, with mum. China at this time was bogged down with civil war between the nationalists and communists with the latter growing stronger day by day. With the prospect of the communists taking control of the country, it was also a wise decision for the rich to leave their motherland as the Zheng's family assets were later sequestrated by the communists when they came to power on 1 October 1949.
THANK YOU, DAD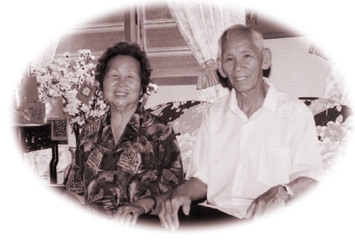 In the meantime, our dad and mum aged 30 and 22 respectively decided to settle down in Sepang, Selangor in May 1947. They worked hard as pig-farmers there. A son was shortly born but died a few days later, again. Still childless at this time, they decided to adopt a girl in 1948 in the belief that later pregnancies would be smooth going. In November 1949, their own child, a girl, was born and this was followed by a son in October 1951. Much to their dismay, one more miscarriage happened in 1952. In June 1955, they were blessed with another daughter. But life then was bad, and they lived in poverty and under the constant fear of the communist insurgents which Malaya was fighting at this time. As the pig farm was located far away from home, their livelihood was severely affected by the many curfews imposed by the security forces. When another girl was born in 1957, like so many other Sepang residents then, they had no choice but to give the child up for adoption by the Christian missionaries in Seremban. Years later, it was discovered from the records kept at the Seremban Convent High School and confirmed by the National Registration Department that the baby girl named Mary Agatha Tan Ah Siew had died 3 months after her admission from pneumonia.
In 1958, they decided to move down to Yong Peng. The family of 6 lived in a small rented room. There, another girl was born in 1959. With the proceeds of the sale of the Sepang house and the pig farm together with the pigs and some borrowings from relatives, Dad bought a 6-acre piece of land in Yong Peng for 800 dollars which he later planted it with rubber trees. In the morning, he would work as a labourer for other landowners who required him to either clear their smallholdings from weeds and lalang or create drains along the perimeter of the lands. He did all these by using his cangkul, and for a meagre wage of 6 dollars a day. Apart from having to work under the hot sun with his bare hands, such job offers were not regular. Hence the afternoons and off days were spent in the rubber plantation. The household income was however partly supplemented by the adopted daughter and the eldest daughter who started working as rubber tappers at the tender age of 11 and 10 respectively, each earning about 2 dollars a day. In order to help support the family, the two of them sacrificed much and were therefore deprived of the luxury of going to school and whom the younger siblings are also forever indebted to them.
In 1960, dad managed to raise enough money to buy the present house for 600 dollars. There, his second son and the youngest child, a girl, were born.